'Tis the season!
To break out the brandy and spike the 'nog.
Stimulate the economy, see the family, and then drown our aggravations with a stiff libation.
The melodies we've ignored all year are now jingling in everyone's ear,
bringing forth such holiday...cheer.
I may be in need of another beer...
Wow, that was painful. Okay, I'm done rhyming now. Promise.
Eleven months out of the year I refuse to tolerate holiday music. I suppose that's pretty typical, but the moment December hits, well, just fill my lungs with sugarplums and... whoops. No rhyming. Sorry.
Basically, I'm digging me some Christmas music, even if it's not all actually "Christmas" music.
But lord knows there's no shortage of it.
Producing a holiday album is like a rite of passage for mainstream musicians and singers. Most of the songs are at least tolerable, yet there are more than a few that are clearly the hell-spawn of the evil Burgermeister Meisterburger and Heat Miser.
You know they're gettin' some freaky, angry, 1970's stop motion lovin on.
Rawr.
These are the songs that make up the yuletide soundtrack for at least one of Dante's circles of hell. Songs like -
"Dominick the Donkey"
First sang by Lou Monte, somehow this abomination has managed to get airtime since 1960.
Complete with such inspired lyrics as:
"Hey! Chingedy ching,
(hee-haw, hee-haw)
It's Dominick the donkey.
Chingedy ching,
(hee-haw, hee-haw)
The Italian Christmas donkey!"
Sapping your will to live one bray at a time.
Consequence: Every time this song is played, the ghost of Lou Monte strangles a puffin.
Do you really want to be responsible for that?
Awesome Alternative: Trans Siberian Orchestra's "Carol of the Bells"
Because, oh I don't know. It's festive, upbeat, and
rockin!
You are welcome.
Okay, remember when a country song wasn't really
country
unless it was describing some kind of horrific tragedy? That's Christian group NewSong's "Christmas Shoes". They just added a sprig of holly to the saddest country song ever with the sole intention of not so much tugging at your heart strings, as ripping them out and using them to play an acoustic guitar.
Apparently it allows for a much richer sound.
A little tear jerk is fine, but these guys have plunged off Sympathy Highway and swan-dived over Manipulation Cliff. Leaving me to feel nothing but resentment, as well as an uncanny ability to recognize "Christmas Shoes" within the first three chords in order to quickly change stations.

Consequence: Broken shoelaces. Forever. And poo seeking sneaker soles.

Awesome Alternative: Judy Garland's "Have Yourself a Merry Little Christmas."

It's everything "Shoes" is not. Well sung and optimistic. Simple, but much more pleasant.
Take it away Miss. Garland
"I Want a Hippopotamus for Christmas", you say?
Gayla Peevey, I understand you were only ten at the time, so it's not entirely your fault. But your obnoxiously squeaky child voice has plagued me every December for the last 26 years. What idiot would actually want a freakin
hippopotamus
for Christmas anyway?!
Kid, I don't care if they are herbivores. Your mom was right, that thing is going to eat you.
I can only theorize that "I Want a Hippopotamus for Christmas" was the end result of a particularly wacky bout of Mad Libs. Nothing about it makes sense, not even in a cute way. It's the squeaky dysfunctional fourth wheel on the shopping cart that just spins around annoyingly.
Consequence: You get a hippopotamus.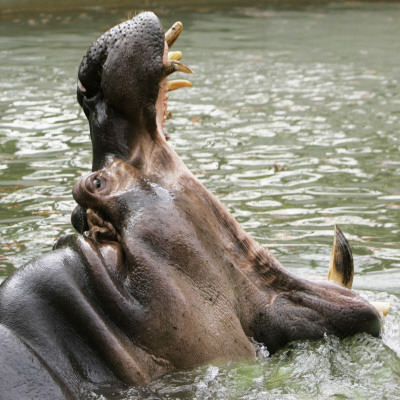 Enjoy.
Awesome Alternative: Mannheim Steamroller's "Sleigh Ride"

Sure it's a little goofy, what with the coconut clip-clop sound, but it's fun and lighthearted. Also there's not a trace of awkward prepubescent vocals. And who doesn't love a horn section?
And yet few sounds of the season can compete with the squeakiness that is The Chipmunks' "The Christmas Song".
You might not like what I'll do with your hula hoop.
I hope those bastards enjoyed their helium, because the rest of us are paying dearly for it.

Consequence: Chased by three hungry, rabid chipmunks.

Awesome Alternative: Bruce Springsteen's "Santa Claus is Coming to Town".

Because he's the Boss, and there's a saxophone involved. What more do you want, really?
I was pretty young when I first heard "I Saw Mommy Kissing Santa Claus" by the Jackson 5, but I do remember being very disturbed that infidelity was being discussed so nonchalantly. But this song isn't so much inherently bad, as it just left a bad taste in my mouth because of what I associated it with for all those years. So I won't hate on it too much.
It did take me until about the end of middle school to figure out that Mommy was not, in fact, a Santa Claus groupie. Yes, I'm occasionally a little slow. Like how I didn't realize that Elton John was gay until my sophomore year of high school.
I just knew that the guy has a great music catalog. One might even call it... fabulous.
C'mon, the 80's were all glam rock. In my mind Elton John was just a hold over from the days of David Bowie and Iggy Pop. At any rate, you can't deny the man's "Step into Christmas".
Okay, yeah, the feather boa might have been a clue.
"But what's the best holiday song?" you may ask. Of course it's different things for different people, but Dean Martin's "Baby it's Cold Outside" is my current favorite.
Yes, I believe you're right. It is cold outside.
Really, I'll listen to any Dean Martin holiday song though. He's a man that just oozed cool. Mischievous without being reckless, flirtatious without being slimy.
I like to picture him smiling into the the microphone while winking at a pretty girl working the soundboard.
And what guy hasn't pulled something like this? Trying to convince a girl not to leave
quite
yet.
Adorable.
But whatever you're listening to, however your beliefs may be, and wherever you are:
Happy Holidays, Merry Christmas, Happy Hanukkah, Kwanza, Christkwanzukkah, and Festivus for the rest of us.
Travel safe!